IMPORTANT
THIS FEATURE IS ONLY UPON REQUEST
Tattoogenda offers payments per day and per artist.
If you are interested in the payments per week feature and you'd like to request this feature,
please mail to sandy@tattoogenda.com for more information.


YOU REQUIRE THE FOLLOWING SUBSCRIPTION PLAN
Payments are available starting from the 'Bigger studio' plan.
These options will not be available for you when you do not have this plan or higher.

Go to 'Payments'
You will see the following screen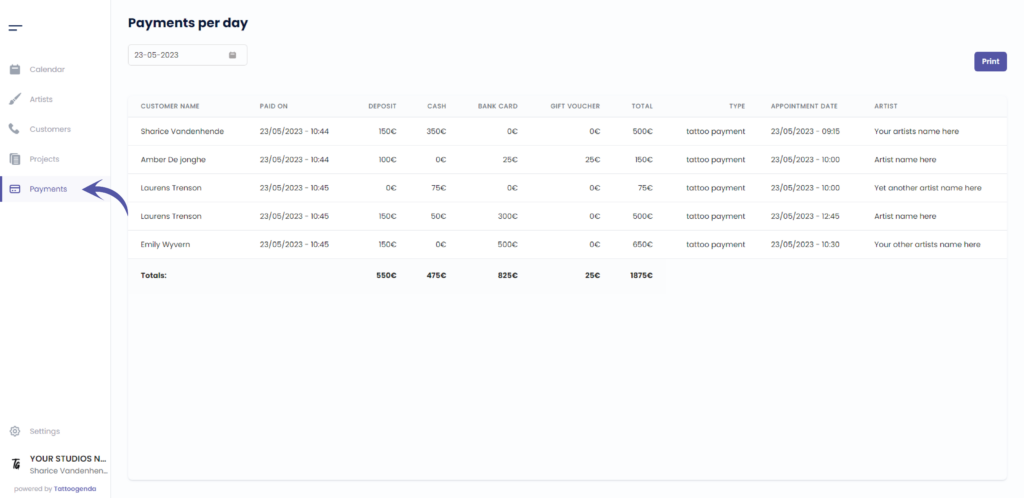 When you click on 'Payments' into the navigation menu,
you will see three more sub tabs appear.
You will automatically be on the payments per day
Go to 'Per week'
Select the week
The selected week
Navigate by one month
Navigate by one year
Navigate faster by month
Navigate faster by year
Sell merchandise #
Click sell merch and enter your values in the pop up screen of the sale
Sell gift voucher #
Click sell gift voucher and enter your values in the pop up screen of the sale
Piercing share #
Click add piercing share and enter your values in the pop up screen of the sale
Deposit through bank wire #
Click add deposit through bank wire and enter the deposit values in the pop up screen
Overview incomes #
Use the scroll bar to scroll down
Payments per artist #
Deposits paid for guest artists #
Deposits paid for resident artists #
Gift vouchers #
Merchandise #
Deposits by bank wire #
Total overview #
Resident artists, deposits, gift vouchers and merch
Click print to print this overview
You still have a problem or a question?
You can find a little link below called 'Still stuck? How can we help!'
Written by
Sharice Vandenhende
By Tattoogenda